I am somewhat surprised that the spirit of the Confederacy is still so strong here and it appears that hatred of the Yankees has not died away. The coloured question too is much in evidence and we have been lectured by the CO (American) to the effect that no white man was to associate in any way with a negro except in the relation of master to servant; also that a white man disregarding this rule would be outlawed.
Yesterday was Armistice Day and a big procession was held in Montgomery in which the British cadets took a leading part. We marched with rifles and fixed bayonets and many townspeople told us that we were the smartest body in the parade which is very creditable as most of us have no experience in rifle drill. Following the parade we were allowed out of the camp for the first time (open post it is called) and we wandered through the city which is very attractive. It is very much bigger than Moncton but to our eyes the coloured problem is strange and rather ugly.
A pleasant feature of life at Maxwell Field is that our officers sit at table with us eating the same food. Our particular officers of G Squadron, Lieuts Thompson and McDowall, are very well liked and six other officers are attached to us having been transferred from the Infantry to the Air Corps for flying training.
Monday, 17 November 1941. We enjoyed our first weekend leave on Saturday from 2pm until 3pm on Sunday which I spent with room mates Charles Hollins and Alec Flett. It was quiet but we made some interesting contacts - one in particular was with a professor from Auburn University whom we met in a restaurant and who has invited us to Auburn two weeks hence. He specially wants us to see the big ball game there but to do this it will mean leaving Montgomery at 12.30 on the day so he is writing to the CO for permission - we earnestly hope it will be granted.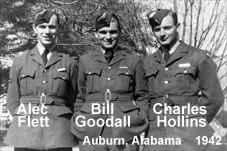 On Sunday morning the three of us were strolling along Dexter Avenue when a big Packard stopped and a lady and gentleman asked us to hop in for a drive. We did so and were taken round the district for an hour or so - seeing Gunter Field, the basic training centre on the other side of town, Kilby Jail which looks just like the jails one sees in films and a big girls college called Huntingdon.
Two of our room mates reported sick this morning with what looks like flu but generally the health of our contingent is excellent considering the big change in food and climate. Still no mail for anyone but I was thrilled to get a cable from Moira on Friday - the first contact with her since I phoned from Wilmslow on October 12. She has received my first letter and is about to join the ATS.
Monday, 24 November 1941. Mail is now arriving regularly and it is noticeable that there is little difference in the time taken by Air Mail and Surface Mail. It was a big shock to learn of my Uncle Galt's death in Glasgow - he was run over by a bus in the blackout.
Tuesday, 25 November 1941. Last Wednesday night the British cadets organised a dance in the City Auditorium and various parties were made up for the cadets. I was invited to a Mrs Henderson's home before the dance where I met some charming people - I arrived about nine o'clock and we chatted until nearly eleven when all moved off to the dance. This was a great success and the British dances such as Palais Glide and Lambeth Walk seemed to go down well with the Montgomery girls.